PASSWORD
CARNATIO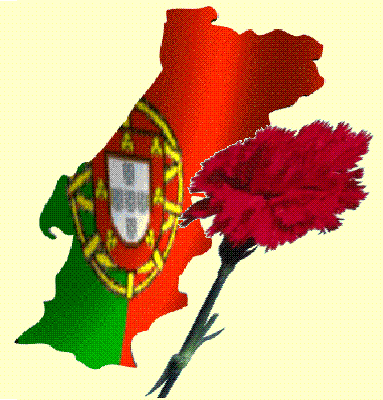 AND NOW WHAT THEY DID WITH OUR APRIL 25!
Portugal continues to be our place planted by the sea.
 But now what we did with so much strength, so much courage that our Captains of April had!
 It was worth it, I wonder and  many of my compatriots wonder too,
I would say yes, but... what about the existence of such inequality, so much struggle, we missed the real and much-desired freedom.
We're free! maybe, but not the way the 25 of April desired ...

Our youth are not the youth from then,we are no longer the youth from April 1974.
Nowadays proclaims itself a freedom that is anything but that, today the freedom smells the lack of respect for our brothers, Today freedom smells very bad, the Elderly is to throw away, they dont know anything (the young people say) Teachers are annoying and a target to beat, to mistreat and disrespect.
Nowadays politics are increasingly our enemy, now the Assembly of the Republic should be called by the name: place of public wash, where they wash a lot of dirty laundry, but in the end leave them even more dirty .
Hear politicians talking today is like a headache, they all talk a lot and talk very nicely very good, but do they say anything!? I heard them and believe me I have heard them very well, trying to choose one, but unfortunately I came to the sad conclusion that whatever I choose, there will be no changes.
Portugal needs new men, new attitudes, new beliefs.
 
PORTUGAL NEED A REAL APRIL 25.
Young people today do not know what it was, do not know what freedom is, do not know the value of APRIL 25/1974.
WE STILL HOPE OF A BETTER COUNTRY.
PORTUGAL 4 EVER.
BY: Paula Alexandra Gago.